Turbovap: A Persistent Craftsman In Innovation
2018-05-15
---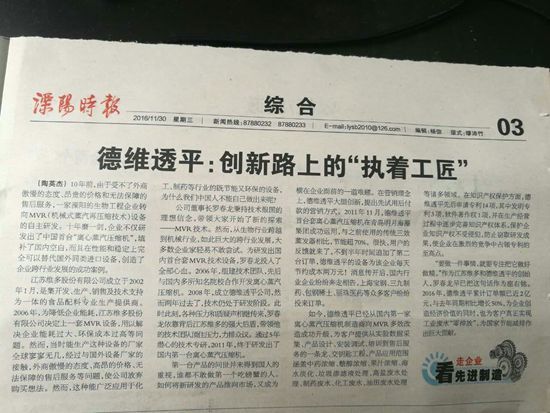 Liyang Times specially reported achievements in Science, Technology and Innovation entitled "Turbovap: A persistent craftsman in innovation" on Nov 30, 2016.
(Tao Yingjie)Ten years ago, because can not stand foreign businessmen's snooty attitude, a biotechnology enterprise in Liyang began to research and develop MVR (Mechanical Vapor Recompression) independently. By overcoming a lot of difficulties, the enterprise made the domestic first centrifugal steam compressor, which can replace imported the same type of equipment in performance and stability. It is a successful case of cross-industry development.
Founded in Jan 2002, Jiangsu Vitasweet Company is a professional food ingredient supplier specialized in developing, manufacturing and selling. In 2006, to lower enterprise energy consumption and environmental cost, Vitasweet decided to purchase a set of MVR equipment. However, very few domestic factories can manufacture this kind of equipment at that time. After contacting foreign factories, Vitasweet gave up buying out of their insolence, high price and unguaranteed after-sales service. However, why not our Chinese factories manufacture this kind of energy-saving and environmental friendly equipment, which can be widely used in chemical industry, pharmacy and so on?
The chairman of Vitasweet Luo Chunlong adheres to serving the country through industrial development. Chairman Luo devoted himself to researching the first MVR equipment with his team. It was really a great trial to R&D from biology industry to machinery industry. The technical team was built in 2006 and Turbovap was founded in 2008. During the two years, although the company cooperated with many well-known colleges, it was still in the stage of developing. At that time, Chairman Luo and his team stood up to the huge pressure to insist on researching MVR supported by Vitasweet. In 2011, after five years' unremitting efforts, Turbovap finally developed the nation's first centrifugal steam compressor.
However, this first compressor was underappreciated. It was difficult to bring the new product to market because no company want to take a risk buying such an unknown equipment. Therefore, Turbovap explored and launched a new sales mode: pay it after using and being satisfied. In November 2011, the first Turbovap® compressor, which can save 70% energy compared to traditional triple-effect, runs successfully in Qingdao Bright Moon Seaweed Group. Less than half a year, the group ordered another one since Turbovap® compressor can save 20,000 RMB every day. As the news spread, many orders came from Shanghai Baosteel, SANJIU Pharmacy, Baotou Steel, Livzon Group, etc.
Nowadays, Turbovap has become a company that help customers collect experimental data, design, debug, train and serve after sales in transforming MVR equipment. The equipment is widely used in TCM concentration, sugar alcohol concentration, juice concentration, seawater desalination, landfill leachate treatment, high salt wastewater treatment, pharmaceutical wastewater treatment, chemical industry wastewater treatment, oil field wastewater treatment, etc. To avoid being infringed upon intellectual property and being stolen achievements of R&D, Turbovap has acquired 14 patents (three patents for invention and one software copyright) and gradually established complete intellectual property system.
"Pursue excellence, strive for perfection, and success will come naturally." This is the motto of Luo Chunlong, the founder of Jiangsu Vitasweet and Turbovap. Orders are up to 200,000,000 RMB in 2016, increasing 50% compared to the same time last year. The enterprise not only generates immense economic value, but only realize zero-emission in industry wastewater treatment, which makes great contributions to energy conservation and emission reduction.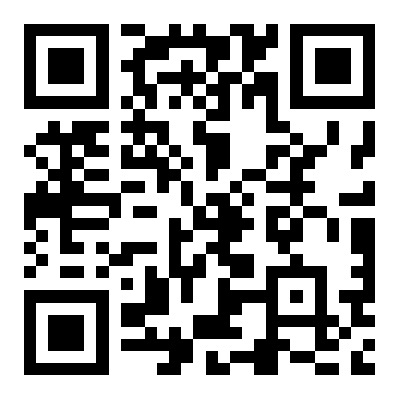 Mobile

WeChat
Efficient - Energy Saving - Innovation - Service